The digital utility market was valued at US$ 141.41 Bn in 2018 and expected to reach US$ 381.38 Bn by 2027 at a CAGR of 11.7% throughout the forecast period from 2019 to 2027.
Market Insights
"Technological advancement will spur revenue growth during the forecast period"
Rapid technological advancements coupled with industrial revolution 4.0 is leading business towards digitalization including power industry. The power industry is increasingly adopting digital technologies which in turn is augmenting the growth of digital utility market. Additionally, significant changes in energy demand coupled with strains on growth in capital asset investment are weakening the rise in utilities. Such shifts drive the need to adopt a new business model with digital capacities that can help utilities respond to changes in utility management and consumption. Organizations have realized the importance of digitalization and are now focused on two aspects namely customer guarantee and advancement of efficiency. Thereby propelling the demand for digital utility market.
Full Report @ Credence Research: https://www.credenceresearch.com/report/digital-utility-market
In addition, the combination of factors including increasing number of distributed and renewable power generation projects globally, stringent regulation for electric utilities and need to improve productivity and efficiency among others are major factors driving the growth of digital utility market. The increasing penetration of digital technology, upcoming smart city projects globally and demand for domestic electricity in countries including China and India among others are expected to proliferate the digital utility market growth.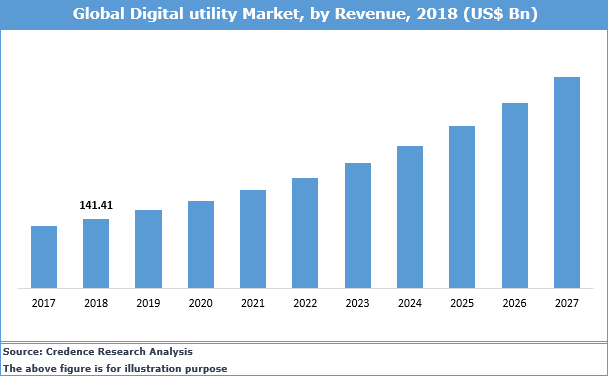 Industrial Developments
• In May 2019, Cisco Systems Inc. has entered into a partnership agreement with Snam S.p.A a major European utility company to develop and innovate the Industrial Internet of Things in the sector.
Get Sample Copy Of this Report: https://www.credenceresearch.com/sample-request/60169
Key Market Movements
1. Globally, the digital utility market is growing at a CAGR of 11.7% for the period of 2019 to 2027. In 2018, the revenue generated globally for digital utility market was 141.41 Bn and is expected to reach US$ 381.38 Bn by 2027.
2. Many utility companies are investing heavily in the digitalization of their firms and changing their core business model to gain a competitive edge, which is acting as a key factor for growth of the market.
3. However, a high initial cost is associated to transform digitally which is hindering the growth of the market.
4. Companies are collaborating with service providers for adopting to industry revolution 4.0. For instance, Accenture has launched Amelia to help companies accelerate adoption of industrial internet of things and artificial intelligence to improve their business and create lucrative opportunities.
5. North America region is dominating the global digital utility market on terms of market revenue. This can be associated with rapid adoption of digital technologies including artificial intelligence, industrial internet of things among others and presence of state-of-the-art infrastructure among others.
List of Companies Covered:
• General Electric Co.
• Siemens AG
• ABB Ltd.
• Accenture Plc
• Capgemini SE
• Sap SE
• IBM
• Microsoft Corporation
• Oracle Corporation
• Wipro Ltd
• Infosys Ltd
Get Sample Copy Of this Report: https://www.credenceresearch.com/sample-request/60169
About Us
Credence Research is a worldwide market research and counseling firm that serves driving organizations, governments, non-legislative associations, and not-for-benefits. We offer our customers some assistance with making enduring enhancements to their execution and understand their most imperative objectives.
Media Contact
Name: Chris Smith
Address: 105 N 1st ST #429,
SAN JOSE, CA 95103 US
(US/CANADA) Ph.: +1-800-361-8290
E-mail: sales@credenceresearch.com