Increasing Efforts By Governments Across Various Countries To Support Solar Energy To Drive The Solar Power Equipment Market Growth
According to a new market research report published by Credence Research "Solar Power Equipment Market (Equipment Type – Solar Panels, Mounting, Racking & Tracking System, Storage Systems and Inverters; Application – Residential, Non-residential and Utilities) – Growth, Future Prospects and Competitive Analysis, 2018 – 2026", the global solar power equipment market was valued at US$ 79.45 Bn in 2017 and will be growing at a CAGR of 13.4% during the forecast period from 2018 to 2026.
You can get the sample copy of this research by Credence Research here 
Market Insights
The market for solar energy equipment was valued at US$ 79.45 billion in 2017 and is expected to grow at a compound annual growth rate (CAGR) of 13.4 per cent during the forecast period from 2018 to 2026. One of the most important factors contributing to the growth of the market can be attributed to the growing reliance on solar energy for electricity generation. Awareness-raising of the benefits of solar energy among people is another major factor contributing to the growth of the market for solar energy equipment. Factors such as no cost of fuel, no global warming and no risk of fuel price spikes support the above-mentioned sentence.
Even the industries have realized the importance of solar energy as it helps them improve their environmental profiles while at the same time lowering their operating costs. The rise in construction activities across regions such as Asia Pacific and the Middle East & Africa is expected to have a positive impact on the growth of the solar energy equipment industry. Governments across countries have been instrumental in offering incentives to support solar energy.
Nonetheless, the lack of financing options coupled with high upfront capital expenditure compensates for the need for solar energy equipment. In addition, the fact that these systems rely on sunny conditions to generate electricity is another challenge that negatively affects market growth.
You can get the sample copy of this research by Credence Research here
Asia Pacific expected the fastest growth in the forecast period to emerge as the next source of solar production. Investors are also flocking to the region, recognizing the enormous potential that the country has to offer. Countries across the region are implementing feed-in tariff (FiT) programs to support green energy communities and small-scale rooftop programs.
Thailand, Indonesia and the Philippines are some of the countries which have introduced FiT programs in recent years. Governments have increasingly focused more emphasis on renewable energy, including solar energy, due to concerns about security of supply, price volatility and environmental issues.
Some of the major players operating in the solar power equipment market include ABB Group, Hanwha Q CELLS, First Solar, Inc., Canadian Solar, JinkoSolar, JA Solar, Shunfeng International, LONGi Solar, Trina Solar and SunPower Corporation among others.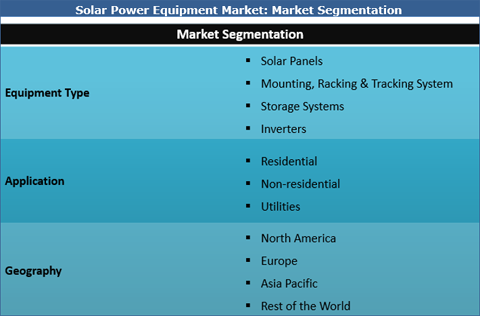 Browse Full Report Originally Published by Credence Research 
Key Trends:
In order to improve the aesthetics of solar panel frame, major manufacturers such as SolarWorld, Canadian Solar, and Trina are producing frameless solar modules
Glass solar panels are expected to gain in popularity in coming years as they are visually more attractive and durable than a typical silicon cell panel.
Manufacturers are focusing on solar panel product improvements. In recent years, the concept of "average solar efficiency" has risen from the 14-15% range up to 16-17%.