According to a new market report published by Credence Research Inc., "Global Smart Elevator Market (By Service Type (New Purchase & Installation, Upgrade (Modernization), and Maintenance), By End-use Application (Residential, Commercial, Healthcare & Institutional, and Industrial)) – Growth, Share, Opportunities, Competitive Analysis, and Forecast 2017 – 2025", the global smart elevator market is expected to witness a growth of 12.7% CAGR during the forecast period 2017 – 2025.
You can get the sample copy of this research by Credence Research here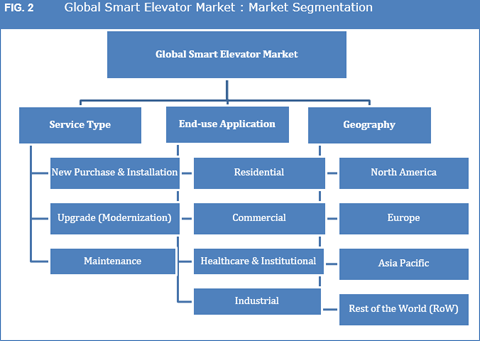 Market Insights
Smart elevators are emerging as the most efficient solution for handling traffic between floors of high-rise / multi-storey buildings. Smart elevators are more stable and energy efficient compared to conventional elevators, while at the same time allowing relatively faster movement of traffic within a tower.
According to a report by the American Council on Energy Efficient Economy, smart elevators have the ability to save energy and expense by almost 40% compared to conventional elevators. Smart elevators are fitted with state-of – the-art security systems, including biometrics, touch screen, destination dispatching and access control systems, among others.
The global market for smart elevators is projected to see strong growth during the 2017-2025 forecast period due to the boom in construction and real estate after the economic recession. Urbanization and an increase in the number of new urban housing units have made the real estate market competitive. Builders are coming up with new plans, providing automation and smart elevators as part of the amenities.
You can get the sample copy of this research by Credence Research here
In contrast, a green movement in the construction industry can be seen. Over the last few years, the market has been flooded with sustainable green goods. According to the U.S. Green Building Council, there were only 2% non-residential green buildings in the U.S. in 2005. In 2015, however, almost half of the country's non-residential buildings are green. The ongoing change in paradigm to green buildings is expected to create huge opportunities for the smart elevator industry.
Although the adoption of smart elevators is steadily increasing in developed economies, replacing the old traditional elevator with the modern smart elevator is still an expensive proposition. The estimated cost of replacing a traditional elevator with a smart replacement is between $60,000 and $250,000 per elevator, depending on the size of the tower. In addition, smart elevator manufacturers are required to comply with a range of strict government regulations and other entry barriers.
While Asia Pacific is on its way to North America and Europe in adoption, rising living standards, urbanization, growing awareness of the benefits of smart technology and the region's latent potential are expected to make it the most lucrative smart elevators market in the years to come. The entry of international players, together with local vendors, is expected to increase market competition and foster market growth.
China, Singapore, Korea and India are major markets and have an enormous growth opportunity. The governments of these leading countries have been encouraging energy-efficient solutions to achieve energy self-sufficiency. For example, China has drawn up plans to develop robust smart grid infrastructure to control energy consumption wisely. Collectively, all of these variables are expected to drive market demand in Asia Pacific.
Browse Full Report Originally Published by Credence Research
The report on global smart elevators market discusses Key players and their strategies. The key players in the smart elevator market are Bosch Security Systems, Hitachi Ltd., Honeywell International Inc., Otis Elevator Company, Mitsubishi Electric Corporation, Kone Corporation, Hyundai Elevator Co. Ltd., Johnson Controls Inc., Schneider Electric SA, Schindler Group, Fujitec Co., Ltd., and ThyssenKrupp Elevator. The key strategies adopted by these players include product innovation and focus on research and development.