According to a new market research report published by Credence Research "Rigid-flex Printed Circuit Boards (PCBs) Market (by Type – Single Sided Rigid-flex PCBs, Double Sided Rigid-flex PCBs and Multi-layered Rigid-flex PCBs; by End-use Application – Aerospace & Defense, IT & Telecommunication, Consumer Electronics, Industrial, Automotive, Healthcare and Others) – Growth, Future Prospects, and Competitive Analysis, 2018 – 2026", the global rigid-flex PCBs Market expected to hit the value of US$ 5,316.3 Mn in 2026 and expected to witness CAGR of 4.3% across the forecast period through 2018 to 2026.
You can get the sample copy of this research by Credence Research here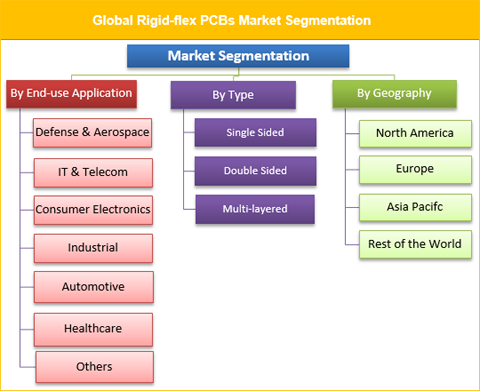 Market Insights
Rigid-Flex PCBs are a combination of both rigid and flexible circuits. Thus, combining the benefits of both rigid and flexible circuits, rigid-flex PCBs provide higher component density and better quality control. In rigid-flex PCBs, the designs are rigid where extra support is required and flexible around corners and areas requiring extra space.
Originally designed to save space and weight in military and aerospace applications, today rigid-flex circuits have found their feet across vertical sectors, such as consumer electronics, IT & telecommunications, automotive and healthcare, due to the advantages offered in terms of packaging complexity, product reliability and assembly costs. In the coming years, the on-going multitude of research in the field of flexible electronics will benefit demand for rigid-flex PCBs.
You can get the sample copy of this research by Credence Research here
In 2017, the global market for rigid-flex printed circuit boards was led by product-type multi-layer circuit boards. The price contribution of multi-layer rigid-flex PCBs to the global market amounted to approximately half of the market in the same year. The supremacy of multi-layer rigid-flex circuit boards can be credited to their use in sophisticated market devices, medical diagnostic equipment, data storage and analytical test equipment, among others.
Geographically speaking, Asia Pacific is currently the largest rigid-flex PCB market in terms of value contribution. In 2017, Asia Pacific's value contribution was more than 70%. The region is home to a large number of PCB manufacturers and manufacturers, accounting for more than three-fourths of total PCB production worldwide.
China is the leading manufacturer of rigid-flex electronics related research, accounting individually for more than 50 per cent of total PCB production worldwide. Growth in the region will also add to the growing demand for smartphones, flat-screen TVs and wearable electronics in other countries, including India, South Korea and Southeast Asian countries.
Further, technological advances have led to a growing interest and demand for wearable electronics worldwide. Over the last few years, there has been an increase in the commercialization of wearable electronic devices with modular components that give customers new capabilities and unique value proposals.
Browse Full Report Originally Published by Credence Research
For example, manufacturers such as Huawei and Garmin have introduced flexible OLED (Organic Light Emitting Diode) displays for electronic wristbands. Increased penetration of wearable electronic gadgets benefits the demand for rigid-flex printed circuit boards that are increasingly integrated into wearable electronics with a view to miniaturizing product size and weight.