According to a new market report published by Credence Research "Global Printing Inks Market Growth, Future Prospects and Competitive Analysis, 2017 – 2025," the global printing inks market is expected to reach over US$ 25 Bn by 2025, expanding at a CAGR of 4.6% from 2017 to 2025.
Access Free Sample Copy of Research Report
[Note: Our Free Complimentary Sample Report Accommodate a Brief Introduction To The Synopsis, TOC, List of Tables and Figures, Competitive Landscape and Geographic Segmentation, Innovation and Future Developments Based on Research Methodology are also Included]
Market Insights:
Printing is commonly used on many different surfaces, ranging from aluminum cans and plastic bottles to paper. The basic raw materials for the manufacture of ink are pigments, binders, solvents and additives. Demand for printing inks is growing rapidly due to an increasing number of end-use applications and industries.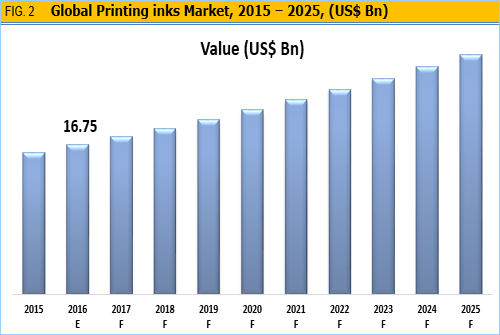 Depending on the product type, the global market for printing inks is segmented into solvent-based printing inks, water-based printing inks, oil-based printing inks and other printing inks. In 2016, oil-based printing inks dominated the global market for printing inks, led by solvent-based printing inks. Nevertheless, water-based printing inks and bio-based printing inks are expected to grow faster.
On the basis of the use, the demand for printing inks is classified as packaging, publishing and industrial printing and other applications. The packaging segment accounted for the largest share of the global printing ink market in 2016. This accounted for more than 35% of the revenue share of the global printing ink industry. Printing inks are commonly used in various sectors such as: automobile, sports, toys, advertising products, electronics, household appliances, plastic cups, plastic bottles, plastic cartridges, plastic tubes, glass, labels, optical media, bottle caps, furniture industry, flexible packaging, wallpapers, tobacco, bottle caps for wine and sparkling wine, aluminum caps, film. Increased demand for publishing and commercial printing worldwide is expected to fuel demand for printing inks in the coming years.
For the purpose of this report, the global printing ink market is divided into the regional markets of North America, Europe, Asia Pacific and Latin America, and the Middle East and Africa. North America was the main printing ink market led by Asia Pacific and Europe in 2016. The overall growth of the Asia-Pacific market will be above the global average during the forecast period. Asia Pacific is expected to achieve the highest growth rate compared to other regions due to the presence of countries such as China, India and Japan, which are experiencing significant growth in the packaging and commercial printing industries.
Browse Full Report Originally Published by Credence Research
Global printing inks market is highly consolidated. Major players includes DIC Corporation, Flint Group, Royal Dutch Printing Ink, Sakata Inx., Siegwerk Druckfarben AG & Co. KGaA, Sun Chemical, T&K Toka, Toyo Ink S.C. Holdings, Wikoff Color etc. Existing players are facing intense competition from the small/ regional players as the market is highly price sensitive. The manufactures are investing in research and development to develop high quality, differentiated and cost effective products to increase their market penetration especially in key consuming economies.