According to a new market research report published by Credence Research, "Precision Harvesters Market (by Product Type (Combine Harvesters, Forage Harvesters, and Robotic Harvesters), by Mechanism (Tractor Mounted Harvesters, Self-propelled Harvesters, and Others ), by Application (Crop, Horticulture, Greenhouse, and Others) by Geography (North America, Europe, Asia Pacific, and Rest of the World)) – Growth, Future Prospects, and Competitive Landscape, 2018 -2026"
The global precision harvesters market is expected to expand at a CAGR of 7.2% during the forecast from 2018 to 2026.
Access Free Sample Copy of Research Report @ https://www.credenceresearch.com/sample-request/59662
Market Insight:
Farmers around the globe are turning to mechanization by rising harvest losses to meet the increasing demand for food. In general, about 50 percent-60 percent of the crop gets damaged during harvesting if the process is performed by hand. Apart from reducing crop losses, farm mechanization lets farmers yield five times more than they produce using traditional farming practices. With the agricultural industry undergoing a paradigm shift from traditional farming practices to mechanized methods, the demand for global harvesters is likely to reach great heights in the coming years.
Advancements in technology, increasing acceptance to technology, and resulting shift towards mechanized farm equipment is driving conventional farm equipment towards obsolescence, thereby generating demand for new installations. Rapid progressions in technology has led to the development of harvesters with superior features and capabilities, thereby driving market demand.
In terms of product type, harvesting robots represent an emerging technology that is attracting attention of farmers, especially in developed economies. Need to increase farm productivity while limiting labor cost remains the overriding factor driving adoption of robotic harvesters among farmers in these regions. In addition, gradual decline in prices of hardware will have positive impact on adoption of robotic harvesters in the emerging, price sensitive economies during the forecast period from 2018 to 2026.
Access Free Sample Copy of Research Report @ https://www.credenceresearch.com/sample-request/59662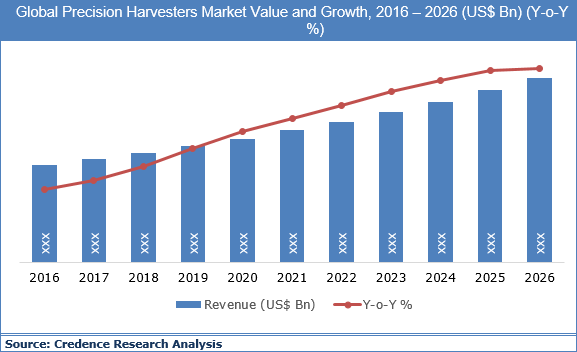 Some of the leading precision harvester manufacturers profiled in the research study include Deere & Company, AGCO Corporation, AgJunction, The Grimme Group, Trimble, Precision Planting, Harvest Croo Robotics, AG Leader, Abundant Robotics, Raven Industries, Teejet Technologies, and Vision Robotics Corporation among others. In order to expand their offerings and better penetrate markets with latent potential, these equipment manufacturers are foreseeing an opportunity to expand their offerings by providing precision harvesters on rental basis. The rental business would offer a sound growth opportunity for manufacturers, especially having presence in Asia Pacific, Latin America, and Middle-East countries where farmers find it financially burdening to invest on high cost advanced farm and agriculture equipment. On the other hand, availability of precision harvesters on rental basis would allow farmers to adopt mechanized farming practices and help increase their yield by reducing harvest losses.
Key Trends
Financial assistance for farmers by the governments across the globe for the uptake and procurement of the machinery in low-mechanized regions
Government subsidies & credits are instrumental in driving the uptake of harvesters and other mechanized equipment
Growing demand for energy crops has triggered subsequent need for harvesters; shift towards biofuel operated harvesting machinery
Farm consolidation in developed economies is stimulating demand for large harvesting machinery
The complete report is available at https://www.credenceresearch.com/report/precision-harvesters-market
About Us:
Credence Research is a worldwide market research and counseling firm that serves driving organizations, governments, non-legislative associations, and not-for-benefits. We offer our customers some assistance with making enduring enhancements to their execution and understand their most imperative objectives. Over almost a century, we've manufactured a firm extraordinarily prepared to this task.
Contact:
Credence Research Inc
Name: Chris Smith (Global Sales Manager)
E-mail: sales@credenceresearch.com
Ph: 1-800-361-8290