According to a new market report published by Credence Research "Octane Market – Growth, Share, Opportunities, Competitive Analysis, and Forecast 2016 – 2022," the octane market was valued at US$ 53.1 Bn in 2015, and is expected to reach US$ 77.2 Bn by 2022, expanding at a CAGR of 5.5% from 2016 to 2022.
Access Free Sample Copy of Research Report
[Note: Our Free Complimentary Sample Report Accommodate a Brief Introduction To The Synopsis, TOC, List of Tables and Figures, Competitive Landscape and Geographic Segmentation, Innovation and Future Developments Based on Research Methodology are also Included]
Market Insights:
Octane rating is an indicator of the potential of the fuel to resist knocking. The octane value of the engine differs with respect to mechanical and spatial considerations, compression ratio and operating conditions. Thus increase the number of octane, various compounds are added to the gasoline. Some of the substances that are applied to gasoline include ethanol, MTBE, ETBE and methanol. Among these, ethanol accounted for a significant market share and is expected to increase in the near future. Ethanol will run at a much higher rate of recirculation of the exhaust gas at higher compression ratios.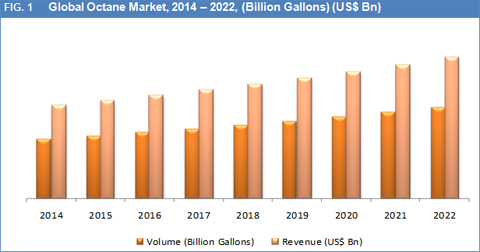 It has a higher octane level compared to diesel, which has created very fine particulates. The higher the fuel octane level, the more defiant it is to knock. As a result, high demand for ethanol is reported on the market. Growing demand for octane from the oil industry is expected to fuel the high growth of the global octane sector. Methyl Tertiary-Butyl Ether (MTBE) was the second largest demand for octane and is expected to grow during the forecast period. Certain compounds such as Ethyl Tertiary-Butyl Ether (ETBE) and methanol are also expected to experience reasonable market demand during the forecast period from 2016 to 2022.
Competitive Insights:
Fuel and fuel additives accounted for major share of global octane market in 2015 and is expected to increase in the near future. Growing demand from the petroleum industry has boosted growth of global octane market. High demand for environmental friendly fuel is the major factor contributing to the growth of global octane market worldwide. The rising environmental concerns have led to high demand for fuel with less carbon emissions and fuel's greater resistance to knocking during combustion. Hence, fuel and fuel additives application is expected to fuel market growth of octane in the near future.
Other applications of octane such as solvents, paints & coatings and intermediates are also expected to boost market growth of octane. Gasoline is used for wide range of applications in the end-user industries. It is primarily used as fuel and has very high solvency properties. It is very often used to remove tar, grease, and waxes. It also makes an excellent solvent for cleaning metals parts and tools. Octane is used in gasoline to reduce the flammability, thus leading to high demand in the market.
Browse Full Report Originally Published by Credence Research
Key Trends:
High demand from the petroleum industry
Growing demand from the solvent applications
Increasing demand for environment friendly fuel
Opportunities from ongoing Research & Development to identify additional product or industrial usages