According to a new market research report published by Credence Research "New Energy Vehicles (NEVs) Market (By Energy Type– Battery Electric Vehicles (BEVs), Plug-in Hybrid Electric Vehicles (PHEVs) and Fuel Cell Electric Vehicles (FCEVs); By Vehicle Type: Passenger Cars, Buses, Industrial Vehicles, Scooters and Others) – Growth, Future Prospects, Competitive Analysis and Forecast 2017 – 2025", China is playing a crucial role in driving the overall NEV market.
You can get the sample copy of this research by Credence Research here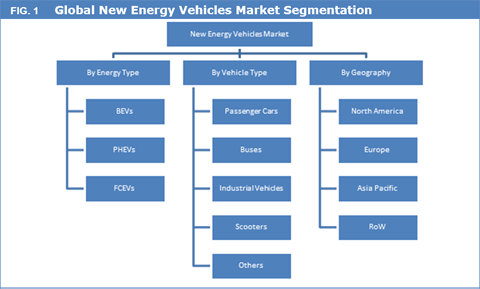 Market Insights
With increasing reliance on oil and environmental hazards due to the use of multiple conventional vehicles, there has been a rising need to switch to new and alternative fuel sources for general travel in a number of countries. Factors such as increasing pollution in some of the major cities, especially in countries such as China and India, have led to increased investment in new energy vehicles in recent years.
In turn, favorable government initiatives and policies have led to an increase in the production of these automobiles, leading to a decrease in production costs and availability. In addition, strategic steps towards providing green infrastructure to support new energy vehicles in regions such as North America, Europe and Asia-Pacific have led to increased acceptance of electric vehicles.
You can get the sample copy of this research by Credence Research here
Competitive Insights:
The international market for new energy vehicles (NEV) is relatively fragmented, with few of the largest manufacturers of all electric vehicles attributing a significant share of the global NEV market.Some of the leading NEV companies included Renault-Nissan Alliance, Mitsubishi Motors Corporation, General Motors Company, Toyota Motor Corporation, Ford Motor Company, BMW Group, Zhejiang Geely Holding Group Co., Ltd., BAIC Motor Corporation, LTD., Volkswagen Group, BYD Auto Co., Ltd., Tesla, Inc., SAIC Motor Corporation Limited, China Anhui Jianghuai Automobile Co., Ltd. (JAC Motors), Motrec International, Inc., Taylor-Dunn Manufacturing Company, Karrior EV and Bradshaw Electric Vehicles.
However, with the growing entrance of existing traditional car manufacturers into the NEV segment, the competition is expected to rapidly intensify during the forecast period from 2017 to 2025.
Browse Full Report Originally Published by Credence Research
Key Trends:
Market primarily driven by positive government initiatives and public awareness
China is expected to continue its dominance in the global NEV market
Fuel cell electric vehicles are expected to witness strong demand in the consumers segment