According to the latest market report published by Credence Research, Inc. "Myelodysplastic Syndrome (MDS) Treatment Drugs Market – Growth, Future Prospects and Competitive Analysis, 2017 – 2025" the global myelodysplastic syndrome (MDS) treatment drugs market, expanding at a CAGR of 9.5% from 2017 to 2025.
Access Free Sample Copy of Research Report
[Note: Our Free Complimentary Sample Report Accommodate a Brief Introduction To The Synopsis, TOC, List of Tables and Figures, Competitive Landscape and Geographic Segmentation, Innovation and Future Developments Based on Research Methodology are also Included]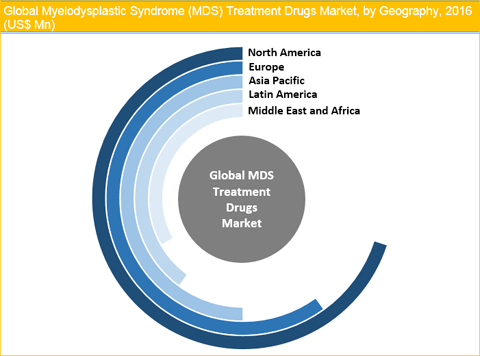 Market Insights:
Myelodysplastic syndrome (MDS) is a blood and bone marrow disorder category. It is a form of cancer that involves the production of abnormal and immature blood cells. The global market for the treatment of myelodysplastic syndrome (MDS) medications is segmented into drug classes such as hypomethylating agents, immunomodulatory drugs, growth factors and others. Actually, demand for hypomethylating agents is the strongest on the market, as they are typically used as targeted therapy in low-and high-risk MDS patients due to their effectiveness. Only 3 drugs currently approved by the US-FDA for the treatment of MDS are Azacitidine, Decitabine, Lenalidomide. Since 2006, no drug has been approved specifically for the treatment of MDS in the United States. The planned launch of ideal pipeline drugs such as JNJ-63935937, MLN-4924, NSC 39069 and rigosertib would therefore lead to significant market growth during the forecast period.
In 2016, North America is leading the global market for MDS drugs as a result of an increase in the number of patients suffering from MDS, early adoption of novel drugs, high investment in R&D and increased expenditure on healthcare systems. Nevertheless, Asia-Pacific represents significant market opportunities due to the growth of healthcare infrastructure, the rapid change of economic conditions and the supportive regulatory environment for new drugs.
Market Competition Assessment:
In the recent years only three drugs (Azacitidine, Decitabine and Lenalidomide) are approved by the FDA for treatment of MDS. However, due to the strong presence of pipeline molecules MDS treatment drugs market experience a shift. Some players such as Celator Pharmaceuticals (Jazz Pharmaceuticals plc.), Bayer AG, Celgene Corporation, Cell Therapeutics, Inc., Daiichi Sankyo Company, Ltd., Incyte Corporation, Janssen Biotech, Inc., MedImmune, LLC (AstraZeneca), Millennium Pharmaceuticals (Takeda Pharmaceutical), Novartis AG, Onconova Therapeutics, Inc., Pfizer, Inc., and Taiho Pharmaceutical (Otsuka Holdings) enjoy prominence in the global MDS treatment drugs market.
Browse Full Report Originally Published by Credence Research
Key Market Movements:
Key factors such as strong presence of ideal pipeline molecules, higher number of unmet needs and growing incidence of MDS are key factors would assist the growth of MDS treatment drugs market over the forecast period.
Expected approval to three major pipeline drugs within the forecast period