According to a new market research report published by Credence Research "High Altitude Platforms (HAPs) Market (Communication Systems, Surveillance Systems and Navigation Systems)  – Growth, Share, Opportunities, Competitive Analysis, and Forecast 2015 – 2022" the global high altitude platforms market was valued at US$ 2,508.6 Mn in 2014 and is estimated to reach US$ 5.2 Bn by 2022
You can get the sample copy of this research by Credence Research here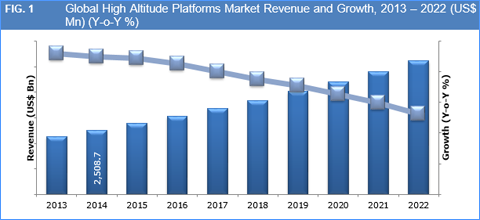 Market Insights
High altitude platforms (HAPs) are elevated stations situated at an elevation of more than 50,000 feet from the Earth's surface. Such platforms typically operate in a stratosphere that is much higher than the altitudes at which commercial aircraft travel. The primary purpose of placing these platforms in the high altitude category is the availability of larger coverage areas coupled with the appropriate wind speeds available at this altitude. Depending on the application, the platforms are equipped with different payloads. These systems are also referred to as cheaper alternatives to satellites.
Depending on the product types, the market is divided into airships, tethered aerostat systems and unmanned aerial vehicles (UAVs). Currently, the UAV segment has the largest revenue share of the global market for HAPs. However, due to their extremely high costs and relatively shorter flight hours, most countries around the world are now moving in the direction of airships and tethered aircraft.
You can get the sample copy of this research by Credence Research here
Such systems are capable of being held up for a few days with minimal maintenance requirements. Such devices are also capable of carrying up to 2.5 tons of payloads. Airships also offer mobility, which makes it suitable for the coverage of larger areas. As a result, segments of airships and aerostat systems are expected to expand significantly in the global market in the coming years.
Competitive Insights:
The international market for high-altitude platforms is quite competitive in nature, with very few companies operating across all three divisions. Aircraft, aerostat systems and UAVs. However, individual product markets are competitive in nature, with most players focusing on improving their product portfolios. Most of the HAP companies are located in the U.S., Israel and China. These companies are primarily concerned with the acquisition of contracts from the U.S. and China defense sectors, which are among the world's largest consumers of HAPs.
Browse Full Report Originally Published by Credence Research
Key Trends:
Adoption of tethered aerostat systems for delivering wireless communication services
Development of high altitude UAVs with longer flight hours
Focus on acquiring international customers for HAPs
Development of solar-powered HAPs