According to a new market research report published by Credence Research "Global Crawler Tractors Market (Type (High HP, Low HP), Application (Agriculture, Construction, Forest)) – Growth, Future Prospects and Competitive Analysis, 2019 – 2027"
The overall crawler tractors market worldwide is set to grow with a CAGR of more than 7% during the forecast period from 2019 to 2027, starting from US$ 2.10 Bn in 2018.
Access Sample Copy of Research Report @ https://www.credenceresearch.com/sample-request/59762
Market Insights: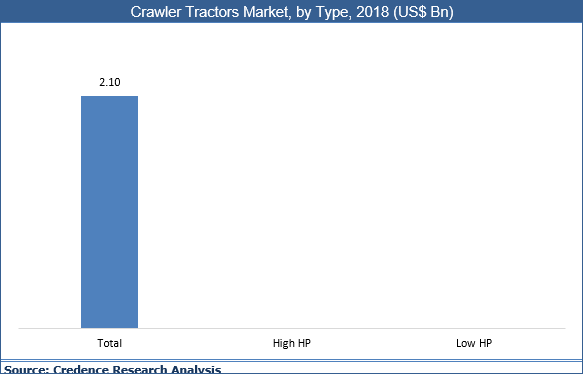 Increasing demand for modern machinery in various industries including agriculture, forestry and construction drives the global crawler tractors market. Companies operating in this sector are conducting rigorous studies to develop and enhance the capacity and applications of existing crawler tractors. Continuous technology innovation and product launch enables businesses to gain a competitive edge in the industry and increase their revenue.
Furthermore, growing maintenance and installation activities for the upgrade of infrastructure coupled with road construction activities are driving the need for these machines across several regions. Thus, growing number of infrastructure projects and rapid urbanization is expected to showcase positive impact on crawler tractors market.
Moreover, developments in the agricultural sector have created demand for modern equipment to increase productivity. This is also considered as one of the primary factors contributing to the growth of this market. However, high cost associated with these machines, lack of skilled labor to use these big and bulky machines are likely to restrain the market growth during the forecast period. 
Access Sample Copy of Research Report @ https://www.credenceresearch.com/sample-request/59762
Based on type, the crawler tractors market is segmented into high HP and low HP machines. The high HP segment dominated the market in 2018 by holding largest market share on global level. High horsepower is the most adopted types of machine as it generates desirable power and helps machine work at a greater speed. Based on the working of crawler tractors, they require high capacity and longer working radius which is achieved by high HP machines, thus are used on a higher level.
North America dominated the global crawler tractors market based on factors such as development and adoption of advanced technologies, rapid urbanization, and presence of large number of major players in this region. The growth rate in this region is expected to be steady compared to Asia-Pacific. Emerging countries offer significant growth opportunities for local and international players. Based on this, many companies are expanding their presence in this regional segments and opting to gain a competitive edge in the global market. Moreover, growing agricultural sector is also contributing to the high growth of crawler tractors in this market during the forecast period.
Some of the major companies profiled in the report include Liebherr Group, John Deere, Caterpillar Inc., Brandt, New Holland, DEUTZ-FAHR, Case IH, Kubota, AGCO Corporation, CLAAS, Shandong Rich Agriculture Machinery, ShanTui, among others.
Access Sample Copy of Research Report @ https://www.credenceresearch.com/sample-request/59762
TOC:
Chapter 1 Preface
1.1 Report Description
1.1.1 Purpose of the Report
1.1.2 Target Audience
1.1.3 USP and Key Offerings
1.2 Research Scope
1.3 Market Segmentation
1.4 Research Methodology
1.4.1 Phase I – Secondary Research
1.4.2 Phase II – Primary Research
1.4.3 Phase III – Expert Panel Review
1.4.4 Assumptions
1.4.5 Approach Adopted
Chapter 2 Executive Summary
2.1 Market Snapshot: Global CT
2.2 Global CT Market, By Type
2.3 Global CT Market, By Application
2.4 Global CT Market, By Geography
Chapter 3 Market Dynamics
3.1 Introduction
3.1.1 Global CT Market Revenue and Growth, 2015 – 2025, (US$ Mn) (%)
3.2 Market Drivers
3.3 Market Growth Inhibitors
3.3.1 Impact Analysis of Drivers and Restraints
3.4 Key Market Trends
3.5 Attractive Investment Proposition
3.6 Competitive Analysis
3.6.1 Market Positioning of Key Vendors
3.6.2 Key Strategies Adopted by the Leading Players…
Browse the full report at https://www.credenceresearch.com/report/crawler-tractors-market
About Us:
Credence Research is a worldwide market research and counseling firm that serves driving organizations, governments, non-legislative associations, and not-for-benefits. We offer our customers some assistance with making enduring enhancements to their execution and understand their most imperative objectives. Over almost a century, we've manufactured a firm extraordinarily prepared to this task.
Contact:
Credence Research Inc
Name: Chris Smith (Global Sales Manager)
E-mail: sales@credenceresearch.com
Ph: 1-800-361-8290Web: https://www.credenceresearch.com