According to a new market research report published by Credence Research "Grinding Machines Market (Control Type: Conventional and CNC; Product: Cylindrical, Surface, Gear, Tool & Cutter, Bench, Jig, Belt and Others; Application: Automotive, Aerospace & Defense, Electrical & Electronics, Consumer Goods, Machine Tools & Parts Manufacturing, Shipbuilding and Others) Market – Growth, Future Prospects and Competitive Analysis, 2018 – 2026", the global grinding machines market is estimated to reach US$ 5.76 Bn by 2026.
You can get the sample copy of this research by Credence Research here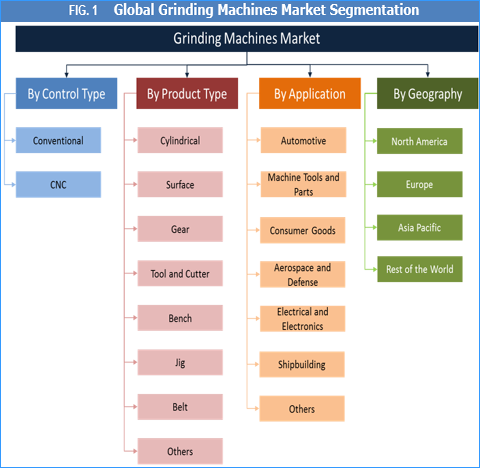 Market Insights:
The machine grinder is an industrial tool used for fine surface finishing by removing an unnecessary amount of material on a given surface / product. Over the years, these machines have undergone continuous development in order to meet the diversifying needs of the various vertical industries. The most popular types of machine grinders used in the industry are surface grinder, tool grinder and cylindrical machine grinder.
The overall market for grinding machines is largely driven by the huge industrial manufacturing industry worldwide, which is showing steady growth. Apart from North America and Europe, Asia Pacific has seen strong industrial growth over the last few decades. Countries such as China, India and Southeast Asia have shown substantial growth over time in various industrial manufacturing sectors. This has contributed to a high demand for industrial machine tools (such as grinding machines).
You can get the sample copy of this research by Credence Research here
The market for grinding machines is segmented by form into cylindrical, floor, gear, tool & cutter, bench, jig, belt and others. The overall market is currently dominated collectively by divisions of cylindrical, surface and gear grinding machines. On the basis of applications, the market is classified as automotive, machine tools & components, consumer goods, aerospace & defense, electrical & electronics, shipbuilding and others. In terms of applications, the market is primarily dominated by the segments of automotive, machine tools & parts manufacturing and consumer goods. Based on the geographic regions, the demand for grinding machines is led by Asia Pacific, followed by Europe.
Competitive Insights:
The increase in the number of producers / suppliers, distributors and service providers has ensured a highly competitive market where most manufacturers are struggling to achieve significant differentiation. Amada Machine Tools, Okuma Corporation and 3 M Company are the major manufacturers of grinding machines. Manufacturers like Kellenberger, DANOBAT Group and Korber AG are some of the most promising players due to their global presence and successful product development strategy. Certain players on the market include Toyoda, ANCA Pty Ltd, Junker Group, Koyo Machinery, WMW Machinery as niche players.
Browse Full Report Originally Published by Credence Research
Key Trends:
Product and service enhancement
Focus on automated grinding machines
Strong growth in tool & cutter grinding machines
Enhancement of distribution network