According to a new market research report published by Credence Research "Electric Bicycles Market (Component – Controllers, Motors & Drivetrains and Batteries (Li-ion Batteries, SLA Batteries and Others); Control System – Throttle Control and Pedal Assist; Age Group – Below 15 years and Above 15 years; Sales Channel – Online and Offline) – Growth, Future Prospects and Competitive Analysis, 2018 – 2026", the electric bicycle market expected to be growing at a compounded annual growth rate (CAGR) of 6.5% from 2018 to 2026 and reach US$ 25.64 Bn in 2026.
You can get the sample copy of this research by Credence Research here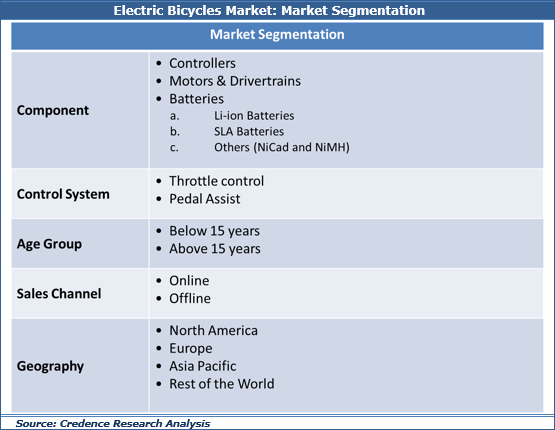 Market Insights
The electric bicycle market is expected to rise at a compound annual growth rate (CAGR) of 6.5 per cent from 2018 to 2026 and to cross US$ 25.64 billion by 2026. Electric bicycles have been stranger to people in recent years. It might be shocking to learn that they've been around for almost a decade, but people's scepticism has restricted their sales. Some of the key factors leading to its decline included a high price point, heavy lead-acid batteries and a lack of knowledge. Interestingly, there has been a dramatic change in this segment over the last 3 years.
The launch of electric bicycles by famous bike brands coupled with a growing "eco-consciousness" among people has been important factors contributing to the growth of the electric bicycle industry. Another factor contributing to the growing popularity of electric bicycles among urban cyclists is the increasing popularity and knowledge of cycling. The development of electric bicycle batteries has further helped the market to prosper. A major contribution in this regard has been the invention of a lithium ion battery, which, being lightweight, also has a higher capacity, allowing longer distances at a single charge.
You can get the sample copy of this research by Credence Research here
Recent trends have shown that electric bicycles are becoming lighter, thanks to lithium ion batteries that are low in weight and large in range. In addition, manufacturers are also shifting their focus to better looking electric bicycles. To order to do this, the battery is built into the frame.
Furthermore, in the coming years, an increasing number of people are expected to try greener modes of transport and electric bicycles in this sense will play a crucial role. Research and development efforts in the coming years will revolve around the enhancement of batteries. Such changes would mostly focus on making the battery smaller, lighter and more efficient.
Asia Pacific had the largest market share in the total market for electric bicycles in 2017. The area is filled with the involvement of a large number of manufacturers, a factor driving market growth in the region. In recent years, the world has experienced a high level of adoption of electric bicycles.
Moreover, the cheap availability of electric bicycles in the country has further helped the market to thrive in the country. India is another country in the region that is expected to offer an enormous growth potential for the electric bicycle market in the coming years.
Browse Full Report Originally Published by Credence Research
Some of the major players operating in the electric bicycles market include Accell Group, NYCeWheels, Easy Motion USA, Derby Cycle, Jiangsu Xinri E-Vehicle Co., Ltd., Moustache Bikes, Karbon Kinetics Limited, myStromer AG, A2B Electric Bikes and Pedego Electric Bikes among others.