According to the latest report published by Credence Research, Inc. "Drug Discovery Technologies Market – Growth, Future Prospects and Competitive Analysis, 2017-2025," the global drug discovery technologies market was valued at US$ 59.6 Bn in 2016, expanding at a CAGR of 12.1%.
Access Free Sample Copy of Research Report
[Note: Our Free Complimentary Sample Report Accommodate a Brief Introduction To The Synopsis, TOC, List of Tables and Figures, Competitive Landscape and Geographic Segmentation, Innovation and Future Developments Based on Research Methodology are also Included]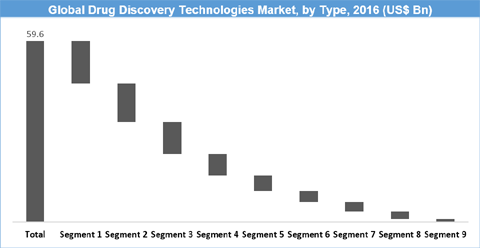 Market Insights:
Drug discovery is a complex process involving multiple stages and taking considerable time and resources for the detection and testing of drug compounds for specific disease treatment. As per sequential orders, drug discovery phases include target selection and validation, hitting, lead optimization and pharmacological profiling. Government funding and pharmaceutical manufacturers are helping to carry out drug discovery research in academic, pharmaceutical or biotechnological research laboratories.
Chronic diseases such as heart disease, diabetes, cancer, stroke, chronic respiratory diseases are estimated to be the leading cause of death worldwide; according to World Health Organization (WHO) statistics, 60 per cent of deaths are caused by chronic diseases. The demand for drug discovery technologies is largely driven by the increasing number of acute and chronic diseases worldwide. The drug discovery sector is undergoing major developments as the disease cure pattern has moved from small chemical compounds to massive molecular proteins and biopharmaceuticals. The recent trend towards precision medicine and related research has contributed significantly to the demand for drug discovery technologies. Implementation of artificial intelligence tools such as Watson IBM for drug discovery is expected to fuel market growth by accelerating work and contributing to new insights. The partnership between Pfizer and Watson IBM for the discovery of immuno-oncology drugs and the connection between GlaxoSmithKline and Exscientia for the detection of drug molecules to cure up to 10 different diseases is expected to result in promising therapeutic treatments. Sirenas recently received a US $1.68 million grant from the Bill & Melinda Gates Foundation to accelerate drug discovery using computational technology called ATLANTIS. Such funding has a positive impact on the market growth of drug discovery technologies by increasing overall research. The integration of pharmaceutical companies has resulted in an increase in R&D productivity due to the combination of expertise and the funding of research capabilities. The increasing popularity of bioinformatics drug repositioning has fuelled the growth of the demand for drug discovery technologies.
This market is affected by the high rate of drug failure in the clinical trial due to insufficient target validation in basic research, lack of thorough pre-clinical drug testing in modern model frameworks, poor communication and coordination between researchers, drug developers and clinicians, and lack of reliable response speculation prior to and throughout the clinical trial. The future market for drug discovery technologies is expected to see positive growth as few organizations have begun to work to overcome the above-mentioned barriers.
On the basis of the type of technology, high throughput screening is commonly used in research with increasing demand for automated and computerized systems. On a regional basis, North America led the drug discovery development market followed by Europe in 2016. Increasing investment by US-based foundations in drug discovery and increasing drug approval by the U.S. The Food and Drug Administration (USFDA) has contributed immensely to the growth of the market.
Market Competition Assessment:
The key industry players of drug discovery technologies market include Abbott Laboratories, Inc., Novartis AG, Eli Lily, Affymetrix Inc, AstraZeneca plc., Boehringer Ingelheim, Inc., Bayer Healthcare AG, GlaxoSmithKline LLC., Pfizer Inc., Sanofi, Albany Molecular Research Inc., Luminex Corporation, and other notable players.
Browse Full Report Originally Published by Credence Research
Key Market Movements:
Advanced technologies such as artificial intelligence platforms to accelerate overall drug discovery process and to provide new insights
Oncology drug discovery collaboration between pharmaceutical companies like Vernalis plc. and Daiichi Sankyo and tie-up of Cancer Research UK with Celgene Corporation are expected to strengthen the research for anticancer treatment
Initiatives have been taking in drug discovery area like Lab 150 in Canada, to bridge research, translation and commercialization which is anticipated to further augment successful drug development process