According to a new market research report published by Credence Research "Dark Fiber Networks Market (Fiber Type – Single Core and Multi-core; Network Type – Metro Dark Fiber Network and Long-haul Dark Fiber Network; End-user – ISPs & Telecommunication, BFSI, IT & ITeS, Education, Manufacturing & Logistics and Hospitality & Retail) – Growth, Future Prospects and Competitive Analysis, 2018 – 2026", the global dark fiber networks market is set to expand with a double digit CAGR throughout the forecast period to cross US$ 11 Bn by 2026.
You can get the sample copy of this research by Credence Research here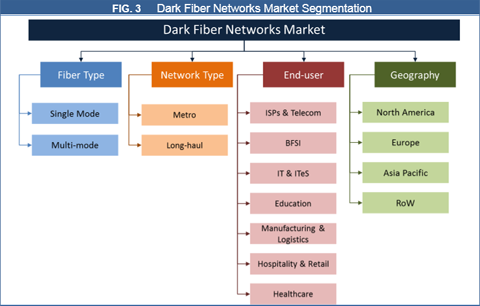 Market Insights
The overall market for dark fiber networks is set to show double-digit growth over the forecast period, mainly due to rapidly growing internet traffic worldwide. Global internet traffic was expected to cross 100 petabytes per month in 2017 with a CAGR of over 25% between 2011 and 2017. This has resulted in a high demand for internet bandwidth to facilitate the transport of high volumes of data.
Dark fiber networks have emerged as a viable solution for various organizations seeking improved network management and interaction. With the increased proliferation of internet services, the need for internet bandwidth is expected to remain rife in the coming years. It is expected to remain the most influential factor responsible for the growth of the demand in dark fiber networks worldwide.
You can get the sample copy of this research by Credence Research here
The overall market for dark fiber networks was segmented by type of cable, size of network and end-user. On the basis of the type of cable, the market is driven by multi-mode accounting for more than 2/3 of the total market price. This is partly due to the increased use of dark fiber across hidden fiber networks. Geographically, the market is dominated by North America accounting for more than 40% of the total market value generated worldwide. Asia Pacific is expected to experience the highest growth in the following years, primarily due to the high penetration of the fiber optic network in Japan, China and South Korea.
The demand for dark fiber networks is strongly supported by business organizations that are heavily dependent on internet connectivity. Such networks are believed to be of great benefit to businesses requiring a high amount of data flow in their service. Such advantages include scalability, reduced network latency, increased security and reliability. Google, Inc., Facebook, Inc. and Microsoft Corporation are prime examples of having a fiber network of their own. Google has, for example, been aggressively purchasing dark fiber since 2005 with a view to establishing a high-speed network between its data centers.
Browse Full Report Originally Published by Credence Research
Therefore, Facebook runs most of its data transport via previously unused' dark fiber networks.' With ever-increasing data volumes worldwide, the market for dark fiber networks is set to rise in the years to come. The rising costs of dark fiber network leasing are another factor driving market growth. With the increasing density of fiber networks, the overall costs of infrastructure and construction have decreased significantly, lowering the costs of leasing. The majority of the market finds its potential in underground fibers as a significant portion of these networks is still unlit.