According to a new market research report published by Credence Research "Cooling Towers Market (Evaporative Cooling Towers, Dry Cooling Towers, Hybrid; Natural Draft, Mechanical Draft) – Growth, Share, Opportunities, Competitive Analysis and Forecast 2016 – 2023", the global cooling towers market stood at US$2,530.3 Mn in 2015 and is estimated to expand with a CAGR of 4.6% from 2016 to 2023.
Access Free Sample Copy of Research Report
[Note: Our Free Complimentary Sample Report Accommodate a Brief Introduction To The Synopsis, TOC, List of Tables and Figures, Competitive Landscape and Geographic Segmentation, Innovation and Future Developments Based on Research Methodology are also Included]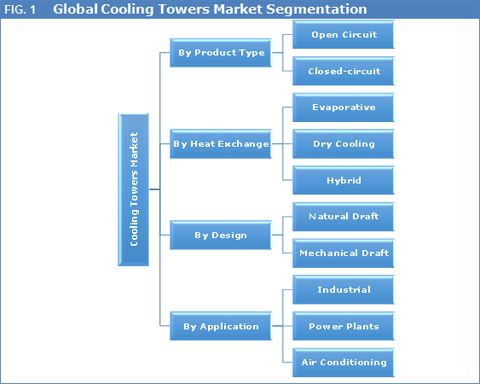 Market Insights:
Cooling towers are among the most important components of specific industrial processes. These can be referred to as heat-rejection devices used to remove waste heat produced in the atmosphere by cooling down the water used. The flowing water in the tower is cooled either by evaporation (wet cooling) or by air cooling (dried cooling) technology. The main purpose of cooling towers is to cool down the water produced by various industrial processes or HVAC (heating, ventilation and air conditioning) cooling. Cooling towers are widely used in various applications such as industrial production, power generation plants and HVAC (air conditioning) systems. The main types of cooling towers are open circuit and closed circuit cooling towers.
The world's fastest growing industry is the most important factor to boost the cooling towers market growth. Likewise, with rising power consumption and demand worldwide, the number of power plants is expected to rise dramatically in the coming years. This is another important factor driving the growth of the market. Cooling towers help reduce the unnecessary use of water as the same water stream is cooled and recycled in the process.
This essentially helps to reduce the total use of water. In addition, cooling towers are available in a variety of designs / configurations, offering higher efficiency that comply with the regulatory standards for these towers. For example, closed-circuit cooling towers offer better efficiency and less water contamination and are therefore expected to be more widely adopted in the coming years.
Competitive Insights:
The cooling towers market is highly fragmented in nature with large number of international as well as regional players operating in the market. The manufacturers majorly focus upon developing products that offer high efficiency and lesser external water contamination. Due to stringent regulations over generation of contaminated water in the process, complying with these norms becomes priority for the manufacturers. Some of the major players in the market comprise Baltimore Aircoil Company, SPX Corporation, GEA Heat Exchangers Group, Paharpur Cooling Towers Ltd., EVAPCO Group and others.
Browse Full Report Originally Published by Credence Research
Key Trends:
Development of hybrid cooling towers for better water efficiency
Strengthening global sales channel in order to maintain and expand the sales
Acquisition of other players for strengthening product portfolio as well as global presence