The latest market report published by Credence Research, Inc. "Global Contrast Media Injectors Market – Growth, Future Prospects, Competitive Analysis, 2018 – 2026," the global contrast media injectors market was valued at US$ 532.8 Mn in 2017, and is expected to reach US$ 959.8 Mn by 2026, expanding at a CAGR of 6.8% from 2018 to 2026.
You can get the sample copy of this research by Credence Research here 
Market Insights
Contrast media is injected into the human body by injectors to improve the quality of medical images in order to make a preliminary diagnosis and perform minimally invasive, visually aided surgery. Several technical advances have been made in the market for contrast media injectors, such as automated injectors, which control the amount of contrast media used and reduce contrast waste. IT-enabled injectors are developed to assess the patient dose by collecting information from the picture archiving and communication system (PACS) and the electronic medical record (EMR).
Injector systems dominate the product segment due to key factors such as increasing demand for computed tomography (CT) and magnetic resonance imaging (MRI) scans. Manufacturers have dual head injectors and automatic contrast media injectors to improve precision, image quality and patient safety. Consumables will display impressive growth due to the availability of a wide range of low cost items and the regular replacement of tubes and syringes to prevent serious adverse events such as air embolism and extravagance.
Interventional cardiology currently dominates the application category due to factors such as increasing prevalence of cardiovascular disorders. According to the Center for Disease Control and Prevention (CDC), almost one in three deaths in the United States is caused by heart attack and stroke. Approximately 200,000 deaths can be prevented by early intervention cardiology. Radiology will register significant growth during the forecast period due to factors such as an increasing number of outpatients performing a preliminary diagnosis and technical advancement in clinical radiology saving time and money.
You can get the sample copy of this research by Credence Research here 
North America is a clear leader in the regional market for contrast media injectors. The parameters responsible for North America's dominance are the rising prevalence of chronic diseases requiring a preliminary diagnosis. Domestic market leaders provide the latest automated injectors to provide surgeons with enhanced image optimization and patient safety. The contrast market for media injectors in Europe is determined by increasing public health awareness resulting from early diagnosis and well-developed healthcare infrastructure equipped with imaging devices. Asia Pacific will see impressive growth due to factors such as increased government spending on providing imaging instruments for hospitals and clinics, such as computed tomography (CT) and magnetic resonance imaging (MRI).
The key players manufacturing contrast media injector systems and consumables are APOLLO RT Co., Ltd., Sino Medical-Device Technology Co., Ltd, Bayer Healthcare LLC, GE Healthcare, Guerbet Group, Medtron AG, VIVID IMAGING, Nemoto Kyorindo Co., Ltd., Bracco Group and Ulrich GmbH & Co., KG.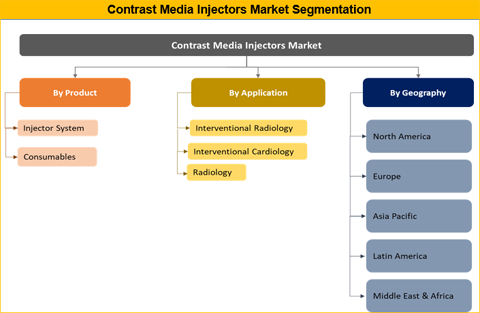 Browse Full Report Originally Published by Credence Research 
Key Market Movements:
Increasing demand for visually guided minimally invasive surgeries
Rising prevalence of chronic diseases and increasing public health awareness resulting in enhanced preliminary diagnosis
Technological development in the contrast media injectors such as IT enabled solutions for syringeless automated injectors to increase safety and efficiency