According to a new market research report published by Credence Research "Bio-alcohol Market By Product Type (Bio-ethanol    , Bio-methanol, Bio-butanol, and BDO), By Application (Transportation, Power Generation, Medical, and Others (Construction, Chemicals, Alcoholic Beverages, etc.)), By Raw Material (Grains, Sugarcane, Industrial beets, Bio-waste, and Others (Jerusalem artichoke, Cassava, etc.)) and By Geography (North America, Europe, Asia-Pacific, Latin America, and Middle East & Africa) – Growth, Future Prospects and Competitive Analysis, 2018 – 2026", the global bio-alcohol market is set to grow with a CAGR of 6.6 % throughout the forecast period to reach US$ 13,498.8  Mn by 2026.
Access Free Sample Copy of Research Report
[Note: Our Free Complimentary Sample Report Accommodate a Brief Introduction To The Synopsis, TOC, List of Tables and Figures, Competitive Landscape and Geographic Segmentation, Innovation and Future Developments Based on Research Methodology are also Included]
Market Insights: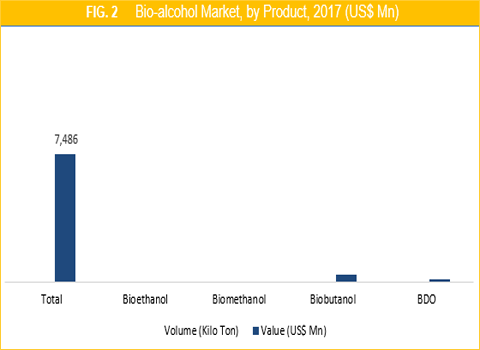 The demand for bio-alcohol is gaining traction due to rising crude oil prices, growing concern about greenhouse gas emissions and the need for alternative renewable energy sources around the globe. Bio-alcohol is a direct substitute for gasoline used as a fuel in the transport, energy and industrial sectors. It is provided by fermentation of sugars extracted from raw materials such as grains, cane, industrial beets, bio-waste, etc. Bio-ethanol is the most common and the largest type of bio-alcohol product in terms of value and volume of consumption. The transport sector accounts for a significant share of around 15% to 20% of the world's CO2 emissions, which is why bio-ethanol is widely used by the transport sector to address rising GHG emissions, as its use helps significantly reduce CO2 emissions.
Increased use of bio-ethanol in alcoholic beverages due to increased purchasing power and acceptance of alcoholic beverages, especially in developing countries that contribute to market growth. Governments in different regions are working to promote energy efficiency and to reduce GHG emissions by investing in alternative energy sources, particularly in large and organized industrial sectors. For example, in November 2017, the Indian Government proposed to invest USD 745.6 million in bioethanol production to reduce the country's energy dependence on imports and increase renewable alternative fuel production with low carbon footprints in order to address the prevailing issues of climate change due to CO2 emissions.
Long-term energy requirements from emerging economies, increasing energy demand, and the eco-friendly nature of bio-alcohol are some of the other factors driving market growth. However, the consumption of food grains as feedstock and the inadequate supply of ethanol are projected to hinder market growth in the coming years. The need for alternative fuel due to an increase in the price of crude oil serves as an opportunity in the global market for bio-alcohol.
The demand for bio-alcohol is segmented by product type, raw material, application and geography. On the basis of the application, transport led the market in terms of value in 2017. This is mainly due to the growing transport industry coupled with an increasing demand for bio-alcohol, particularly bio-ethanol as a fuel from the transport industry. The grain segment, based on raw materials, dominated the market in 2017 due to its widespread use in the food and feed industries.
Based on the product type, bio-ethanol marketed in terms of value in 2017 due to the increasing use of bio-ethanol in energy-oriented applications such as power generation. Geographically focused, North America dominated the global market for bio-alcohol with a value-added share of 62 per cent in 2017. Asia Pacific is identified as the fastest-growing region due to an increase in bio-alcohol production leading to lower purchase prices, increased demand from economies such as China, Thailand and India, and growth in the automotive industry.
Browse Full Report Originally Published by Credence Research
The key players operating in the market include BioAmber Inc., Cargill Inc., Fulcrum BioEnergy Inc., BASF SE, DuPont, Mitsubishi Chemical Corp, BP Biofuels, Genomatica Inc. among others.