According to a new market research report published by Credence Research "Global Autonomous trucks Market (Sensors Technology (Radar, Camera, LiDAR, Ultrasonic); Level of Automation (Level 1, Level 2, Level 3, Level 4, and Level 5); ADAS Features(Adaptive Cruise Control (ACC), Blind Spot Detection (BSD), Lane Assist (LA), Automatic Emergency Braking (AEB), Highway Pilot (HP), Others )) – Growth, Future Prospects and Competitive Analysis, 2019 – 2027"
The overall autonomous trucks market worldwide was valued at US$3.5 Bn in 2018 and is set to grow with a CAGR of 9.5% during the forecast period.
Browse the full report at https://www.credenceresearch.com/report/autonomous-trucks-market
Market Insights: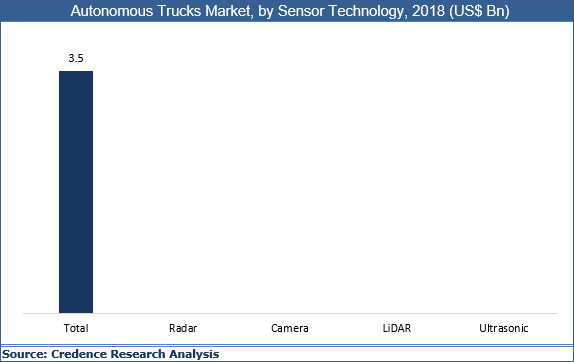 The autonomous trucks are one of the major trends in the automotive and the logistics market. It help cut down on shipping and logistics costs. It also increases health and reduces traffic accidents. A key factor driving the growth of the autonomous truck market is the high demand for safety features coupled with the rising mortality rate caused by the road intersection. Increasing awareness of the benefits offered by the autonomous trucks over conventional trucks is expected to fuel autonomous truck market growth.
Several government organizations are taking initiative to adopt the autonomous trucks that are likely to fuel the growth of autonomous vehicles market. On the other hand, the data security concerns are expected to hamper the growth of autonomous trucks market. Furthermore, the growing research and development in automated mobility are projected to server various growth opportunities for the autonomous trucks market.
The report of the autonomous truck market covers North America, Europe, Asia Pacific, and RoW. Among these regions, North America dominates the market with a revenue share of more than 42% across the globe. Increasing Investment by the government in adopting autonomous trucks across transport application is the primary factor that drives the growth of North America autonomous truck market. In addition, the safety and cost-effective benefits offered by the autonomous truck are promoting the growth of autonomous trucks in the region. Furthermore, Asia Pacific is set to grow with the highest CAGR over the forecast period. Rapidly growing automotive and the transport industries in the Asia Pacific region is accelerating the growth of Asia Pacific autonomous truck market.
Access Sample Copy of Research Report @ https://www.credenceresearch.com/sample-request/59787
Some of the prominent players operating in the autonomous trucks market include Volkswagen AG, Toyota Motor Corporation, Isuzu Motors Limited, Tesla, Inc, General Motors, AB Volvo, Continental AG, Daimler AG, and others.
TOC:
Chapter 1 Preface
1.1 Report Description
1.1.1 Purpose of the Report
1.1.2 Target Audience
1.1.3 USP and Key Offerings
1.2 Research Scope
1.3 Market Segmentation
1.4 Research Methodology
1.4.1 Phase I – Secondary Research
1.4.2 Phase II – Primary Research
1.4.3 Phase III – Expert Panel Review
1.4.4 Assumptions
1.4.5 Approach Adopted
Chapter 2 Executive Summary
2.1 Market Snapshot: Global AT Market
2.2 Global AT Market, By Sensor Technology, 2018 (US$ Bn)
2.3 Global AT Market, By Level of Automation, 2018 (US$ Bn)
2.4 Global AT Market, By ADAS Features, 2018 (US$ Bn)
2.5 Global AT Market, By Geography, 2018 (US$ Bn)
Chapter 3 Market Dynamics
3.1 Introduction
3.1.1 Global AT Market Value, 2017 – 2027, (US$ Bn)
3.2 Market Drivers
3.3 Market Growth Inhibitors
3.3.1 Impact Analysis of Drivers and Restraints
3.4 Key Market Trends
3.5 Attractive Investment Proposition, by Geography, 2018
3.6 Competitive Analysis
3.6.1 Market Positioning of Key AT Vendors, 2018
3.6.2 Key Strategies Adopted by the Leading Players…
Browse the full report at https://www.credenceresearch.com/report/autonomous-trucks-market
About Us:
Credence Research is a worldwide market research and counseling firm that serves driving organizations, governments, non-legislative associations, and not-for-benefits. We offer our customers some assistance with making enduring enhancements to their execution and understand their most imperative objectives. Over almost a century, we've manufactured a firm extraordinarily prepared to this task.
Contact:
Credence Research Inc
Name: Chris Smith (Global Sales Manager)
E-mail: sales@credenceresearch.com
Ph: 1-800-361-8290